installation design services
Leveraging my experience designing boutique corporate interiors, I now work with art consultants and interior designers to provide personalized architecturally-integrated art features that comply with codes, budgets, and timelines so your space can be as unique as you are. My work for diverse clients such as AmazonStudios, Rivian Automotive, Twitch Media, Symbio Robotics, and Enlisted Design has been recognized in national and international press outlets like Dezeen and Page Magazine.

Read on for more information on past projects, services offered, my design process, pricing structures, client list, and testimonials.
To inquire about collaborating on your next project, please email art@annietull.com or shoot me a text at (415) 481-2046 to set up a complimentary introductory call.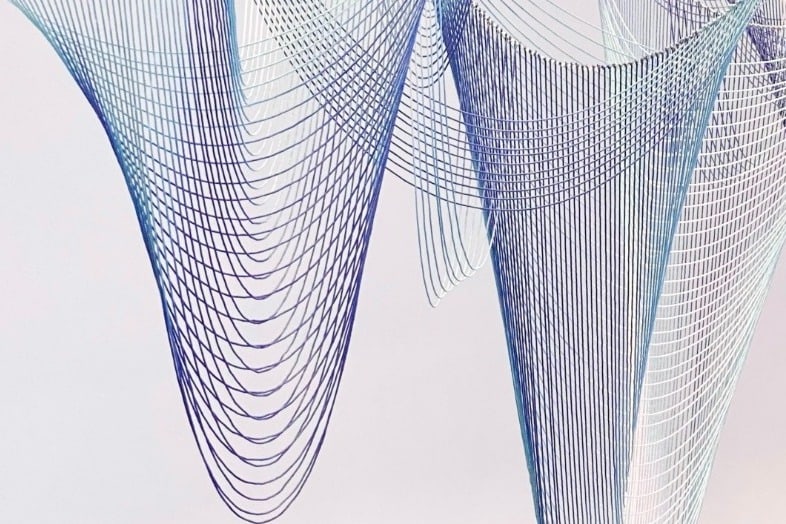 WAVEBREAK
2020 | Irvine, California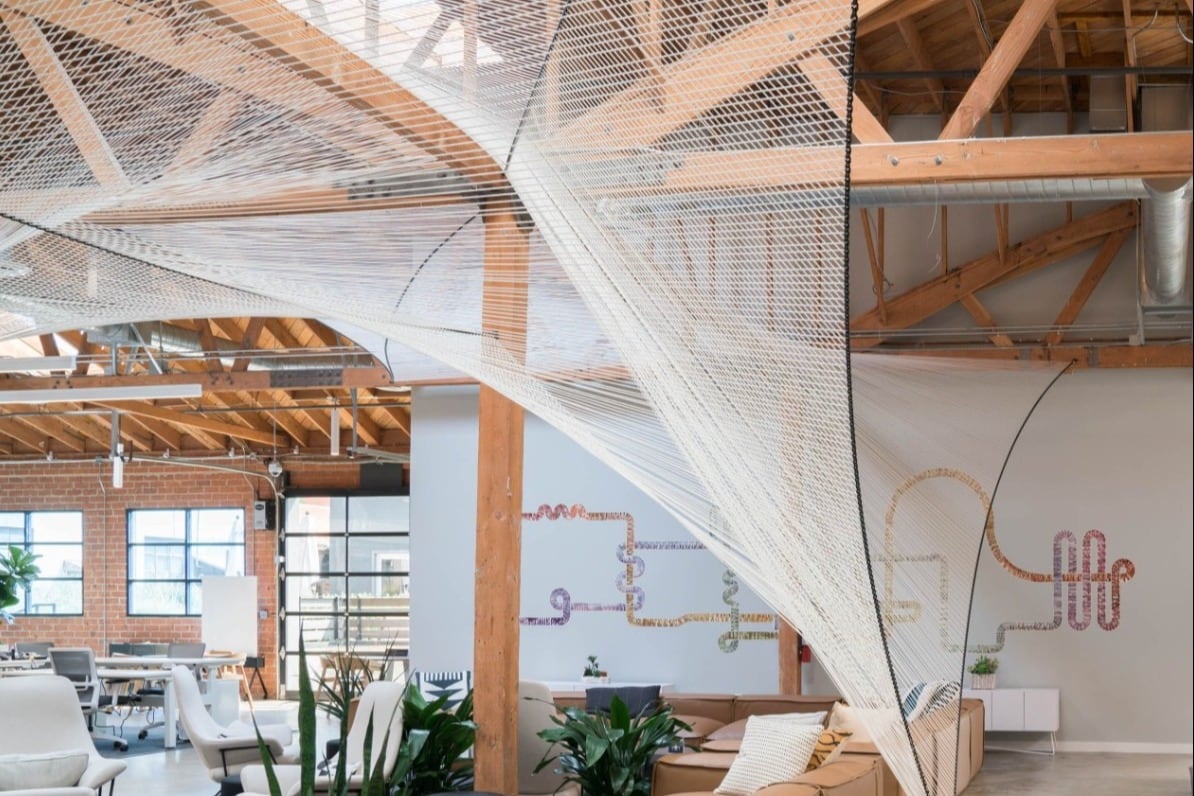 FORET MOIRE
2020 | Culver City, California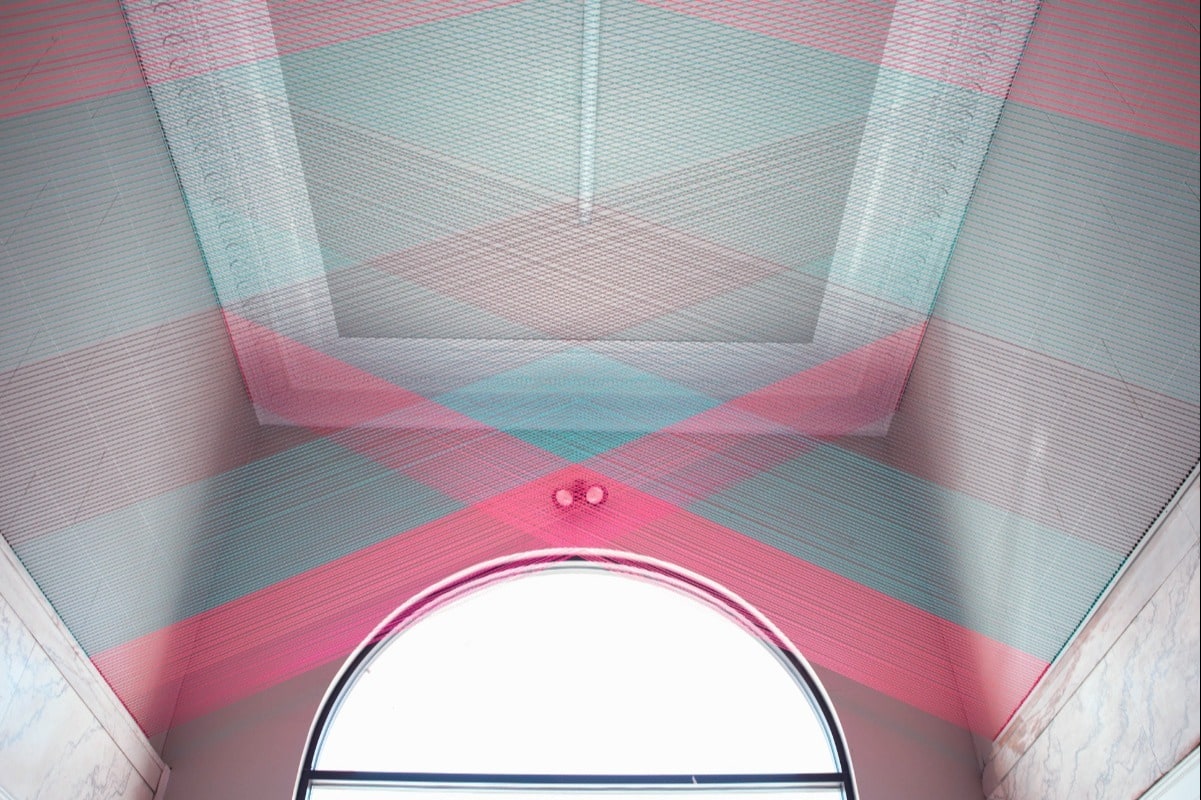 NXT LVL
2017 | Oakland, California
Custom Artwork and Installations

Design Collaborations

Indoor and Outdoor Public Artworks
Visual Displays and Merchandising

Environmental Design for Stage, Film and Events

New Project Type? I'm always happy to flex my creative muscles!

:: STEP 1 ::
Tell me what you're looking for! The more information you can give me on overall project mood, spatial requirements and budget up front, the more streamlined the project process will be!
:: STEP 2 ::
I develop a design concept based on your project needs and share a proposal with you which includes concept images, renderings, budget, and timeline projections.
:: STEP 3 ::
The fun begins! Together we will work toward making sure all the details are in place so that I can install your new custom artwork on time, on budget, and to your complete satisfaction.
For detailed information on the commissioning process, visit the Commission Details section at the bottom of this page.
custom ARTwork
If you simply have a space and a budget and are looking for a little je ne sais quoi, I've got you! I will work with you to design a magical experience that speaks to your unique parameters and will be sure to wow all who encounter it! PS - I love to travel, so projects are welcome worldwide!
:: show me what you're working with ::
DESIGN COLLABORATION
Already have a design in mind? I can work with you to manage and execute the installation process from start to finish. Typically a quote is given based on estimated time + materials + expenses required to achieve your vision. Specialty guidance is always included.
:: REQUEST A QUOTE ::
RECENT CLIENTS
We are globally trusted by the world's best names.



Annie is a spirited, creative designer with a knack for intuitively understanding the functional priorities and aesthetic tastes of her clients. With grace and precision, she not only developed a cool, collected, modern space but also singlehandedly envisioned and installed a massive string art installation. Highly recommend.
Beau Oyler, Principal, Enlisted Design
Not only is Annie incredibly innovative in her vision, she is also extremely professional and capable of meaningful collaboration. She takes simple mediums and exposes their complexities with grace, which is a beautiful metaphor for life.
Shannon Riley, Founder, Building180
commission details
Core Studio Values
My studio focuses on open and transparent communication, problem solving, streamlining the project or commission with the utmost attention to detail and ensuring client satisfaction from concept development through the completion of the project. I always strive to create the perfect piece for your space and your budget. Some projects require some additional attention post completion, and this can be factored into the initial planning.
Custom Project Process
:: Conceptual Design Phase ::
1. I always like to begin new projects with a complimentary 30 minute design consultation with the client in order to understand their vision, aesthetic, or color palettes preferred. A questionnaire can also be emailed instead of a phone call.
2. Installation conceptual design development can range anywhere from 4 - 40 hours depending on the desired aesthetic and number of revisions requested. I generally charge between $500 and $5,000 for initial concept proposal, depending on the complexity of the project and the availability of information at the time of proposal. With more information on the client's desired aesthetic, I can provide a more accurate fee and work in a more timely fashion. If the client has inspiration and palette visuals this will decrease the overall conceptual development time, and therefore the fee. Two initial concepts and one revision are generally included in the fee. I do not submit any design concepts for free to potential clients. I prefer to make a site visit (when possible) to document the space and then include these photos in the mockups / concept renderings so that the client can see the visual of what the design(s) will look like in the actual space. This helps to avoid any surprises down the line.
3. Depending on the desired aesthetic of the installation and my current schedule, I provide concepts between 2 - 12 days. After client feedback, revisions are provided within 2 - 8 days.
:: Preparation + Installation phase ::
1. Once the design has been approved and deposit has been received, I will immediately begin ordering materials, reserving equipment, and locking in travel plans. At this point any changes to schedule or design will incur a change fee to be determined by the specific situation.
2. There may be instances where supplies will need to be delivered directly to the site ahead of my arrival. In this case, I will need the contact information of a point person on-site, and will need to coordinate with them to retrieve these supplies on Day 1 of install. Furthermore, it is imperative that I am informed of, and appropriate measures have been taken to mitigate, any site accessibility issues, such as building security, access hours, elevator limitations, noise restrictions, etc. before I arrive on-site.
3. During installation, it is best if I am able to work undisturbed for the entire duration of the project. Interruptions will delay the process and throw me off my game, potentially causing your project to be less than perfect.
4. Upon completion of the installation, I am always happy to do a walk-through with the client and talk about the inspiration, the process, and the takeaways from the project. Since it is nearly impossible to "sign" an installation artwork, I may request that a plaque or tag stating my name, the title of the piece, and the date be affixed somewhere on or nearby the work. If it is of interest to the client to also include a little blurb on the work as well, I am happy to do that. Depending on the project, this marker may be prepared ahead of time and installed at the same time as the work, or it may be mailed afterward and installed by the client at the location of their choosing.
Pricing / Estimates / Payment
1. My project fees are set based on my best estimate of time + materials + expenses for things like travel and equipment rentals. When estimating the time (labor) portion of the fee, I take into consideration the complexity of the design, construction-related challenges, and any time-related obstacles. For example, if I am installing a project in a space that will be in use during the install period, this inevitably provides coordination challenges. If there is other construction going on while I am working, this too can present issues (ie. dust, paint, grease, etc getting on the artwork). In order to ensure the smoothest install in the least amount of time, it is ideal for me to come in once the space is otherwise complete but prior to occupancy. The installation size, attachment surfaces (drywall, concrete, brick, wood), and environment (interior, exterior, surface of ground) of the project will all determine the amount of supplies and equipment required. Because each project is entirely unique in scope and design, it's best to have an introductory call to go over your project details so that I can provide you with an accurate estimate.
2. My hourly fee ranges from $125 - $175 depending on the complexity of the design and anticipated site conditions, and a typical install day for me is 8 -10 hours. Tighter timelines that require longer hours to complete an installation within a specific period will be charged $250/hr for each hour over 10 hours in a day. Travel per diem is based on project location, and can vary widely across North America, but my minimum per diem if I have to travel more than 100 miles to the project site is $500/day. I also provide payment plans with no interest for budget flexibility.
3. I require a 30% deposit to book the project, which includes the design fee, 20% to begin the installation, and 50% due upon completion. Should you only want to first proceed with conceptual development then that is also an option. In that case, 50% of the design fee amount is due as a deposit to begin design and 50% due upon completion of design phase. If you then choose to proceed with the installation, I would collect 50% of the (separate) installation fee up front and the other 50% upon completion.
4. The proposal I provide you with is broken down into sections; scope, conceptual design, supplies and equipment, travel, payment schedule and additional information. An invoice with a schedule will be provided, and the full deposit amount is required before I can begin work. This enables me to purchase materials and reserve any equipment and/or travel plans, thereby locking in your project dates. From there, payment plans can be discussed for the remainder of the project fee. Payment types accepted: Electronic direct deposit (ACH transfer), Venmo, Check, or Paypal. An additional fee may be required for credit card processing.
Project Documentation & Social Media
1. I document every project with videos and stills. Client confidentiality is important to me, so should you not want to share any process or completed photos until you are ready please let me know up front. I am privy to NDA's and am happy to comply should you require one. I always request content approval for any social media post, sharing with you photo(s) and text to be approved about our collaboration. I share content on Instagram, Facebook, LinkedIn, my website, and a digital newsletter to my email campaign list.
Additional Assistants
1. Depending on the size and complexity of the design and wall, and desired scheduled goal to completion, additional installation assistants may need to be hired. This information would be provided in the estimate, along with the additional fee to cover their time and/or expenses.